By: Darrell Harris
The Conference Semifinals are upon us, of what has been a truly unique NBA season. This year's playoffs are in stark contrast to what the rest of the 2010s have resembled. The young Nuggets roster features just three players who have been in more than 8 playoff games. The Milwaukee Bucks ended an 18-year drought without a playoff series victory. (For context, they lost that year's Conference Finals to Allen Iverson and the 76ers. AI is now in the Hall of Fame) LeBron James isn't still playing for the first time in over a decade. And "The Process," looks a little funny in the light. Oh, and the Warriors are the number one seed. I guess some things haven't changed.
These are the final eight teams, ranked first to worst.
---

Golden State Warriors– No surprise here. It's quite simple, the Warriors feature the best pair of all-stars ever to play together in their primes. Kevin Durant and Stephen Curry are THAT special of a tandem (Shaq and Kobe serve as a close 2nd). The loss of DeMarcus Cousins stings, but last year's Championship core remains. Until the Dubs are dismissed, they are the odds-on favorite to win their 4thtitle in five years.
 Weakness – This Warriors team lacks the bench depth of previous squads. Shaun Livingston is noticeably not what he was in 2016. Iggy looks good so far, but he's now in the starting lineup making Golden State's rotation that much thinner. Foul trouble, technical foul suspensions, and injuries could prevent the Dubs from a three-peat.
Championship Recipe – Ride out Kevin Durant's hot hand. With LeBron out of the picture, the best player in the world is easily KD. And boy is he locked in right now.
Toronto Raptors – Now, this could come back to haunt me if Toronto's old playoff self rears its disappointing face. But I have reason to believe this year is different. That reason is Kawhi Leonard. Wonder who is the winningest player in NBA history? (Just let that question sink in first)… Kawhi is. Now add the stability that a Finals MVP brings, to the defensive prowess of a team with Marc Gasol, Serge Ibaka, Pascal Siakam, Kyle Lowry, and Danny Green. That's a winning formula that stands a chance against the Drake Curse.
Weakness – Inconsistency. We know the disappearing act that can be Kyle Lowry at times, but that doesn't erase the fact he's a 5x All-Star. Marc Gasol may be on the decline, but never doubt his capabilities. On any given night, you don't know who will be Toronto's second best contributor. This could be their Achilles heel.
Championship Recipe – Play stifling defense and follow Kawhi's lead. We all know of Kawhi's laconic tendencies, but trust he lets his game do the talking. The rest of the Raps just need to back up their big dog's bark.
Milwaukee Bucks – Much of the regular season was spent lamenting the fact that the Bucks, led by Giannis Antetokounmpo, have officially arrived. One game into the semis and we thought that narrative might have taken a left. A dominant bounce back game 2 assured that the Bucks should be fine. The Bucks finished the season with the best overall record and first in team net rating. The absence of Malcolm Brogdon's penetration and decision making has been evident, but his potential return should bring some solace.
 Weakness – Dependence on Giannis. Too often, Giannis gets the ball within a motionless offensive set and tasked to go score. This is far too simple of a gameplan for a strategist like Brad Stevens.
Championship Recipe – Three and D. Milwaukee was 2ndthis year in 3-point field goals and 1stin defensive rating. Coach Budenholzer's combination of team defense and floor spacing has not been stopped. The Bucks went all year only losing back-to-back games one time. This squad is smart, resilient, and has the tools to duel Golden State in the Finals.
Denver Nuggets – Denver was tested against the Spurs in round one. However, in a tense game 7, their best players made sure they wouldn't fail. In a back and forth series we learned a lot about the Nuggets. They can win both high and low scoring games. Denver's bench doesn't miss a beat thanks to backup guard Monte Morris. Jamal Murray deserves Most Improved Player-esqe recognition. Lastly, can anyone guard Nikola Jokic?
Weakness – Inexperience. Multiple times it appeared as if the Nuggets just didn't have the pedigree to hold off the mighty Spurs. Their hands will be full again against Portland.
Championship Recipe – Start games off hot and utilize their home court advantage. Denver possess an offensive swagger that is palpable and dangerous to play against. This is amplified when playing in the Mile-High City.
Boston Celtics – If Hard Knocks did an NBA special feature, this Celtics season would've provided great content (and of course the Lakers too). But here we are in May and the C's are starting to click. Kyrie is deep into his bag, and Playoff Horford is balling. Give that man his credit please. This allows the Celtics to operate at maximum efficiency. Jayson Tatum becomes the wing player with downright scary potential, Jaylen Brown gets to play defense and allow the offense to come to him, and Brad Stevens employs the X's and O's that gives them the confidence to beat anyone.
Weakness – Continuity. When the going is good, sky's the limit for this team. But we've seen multiple times this season when things go awry, they look like a complete different team. If team morale is high, I fully expect this squad can compete with anyone.
Championship Recipe – Play Boston basketball. This team has the potential and depth to outduel anybody in a seven-game series. The return of Marcus Smart will be a huge addition. If they beat Milwaukee in convincing fashion, beware…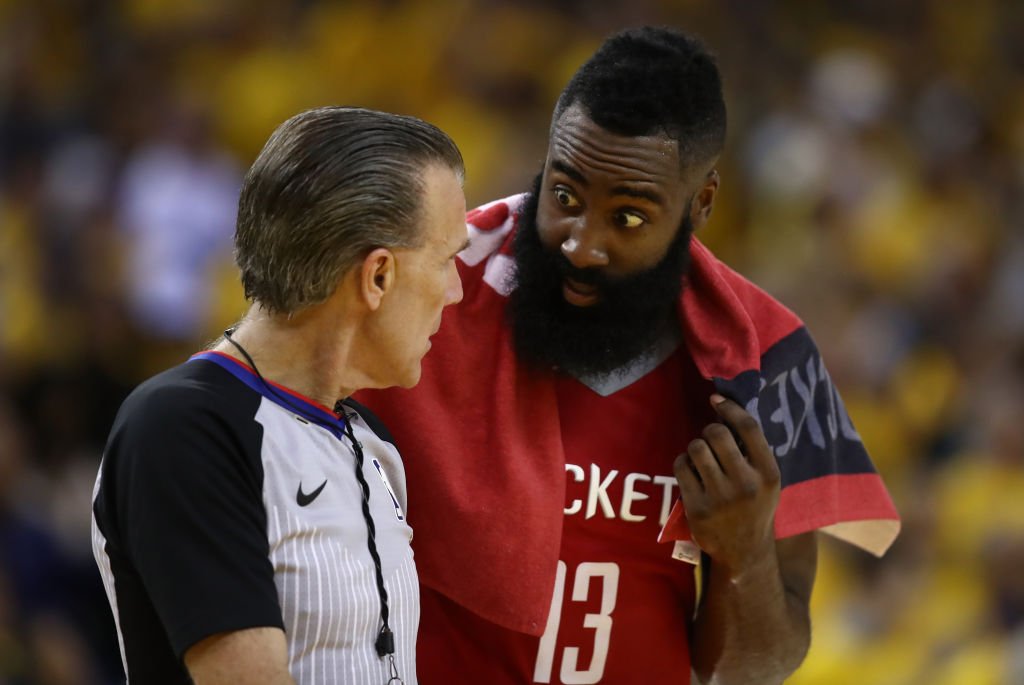 Houston Rockets – Love him or hate him, James Harden is a baaad man. He seemingly figured out basketball this year, putting together the best offensive season we've seen in a long long time. The Rockets go as James goes. At this point of the season, the Rockets can no longer get by with subpar games from their bearded star. The saving grace when Harden isn't clicking is the 3-ball that the Rockets hoist at unprecedented rates. Mike D'Antoni's offense is a force to be reckoned with.
 Weakness – Live by the three, die by the three. Never forget Houston's Game 7 meltdown in last year's conference finals against the same Warriors they face now. That game they went a miserable 7-44 from outside in a nine-point loss. That's tough. I don't expect Houston to switch up now, so hopefully their hot shooting prevails.
Championship Recipe – Beat. The. Warriors.
Philadelphia 76ers – Oh the Process. Philly is a head scratcher. One night, I'll say pencil them into the Finals. Joel Embiid plus Jimmy Butler, with Ben Simmons playing bully point guard and JJ Redick throwing flame from outside? And Tobias Harris? And Boban the White Walker? Then the next night, Joel is inactive, Ben is afraid to shoot, and nobody's playing defense. They're the most Jekyll and Hyde team still playing, it all depends on who shows up (literally).
 Weakness – Togetherness. The Sixers are a great collection of talent, but sometimes they hardly resemble a team. This is largely due to multiple big, in-season acquisitions. They were constantly learning on the fly, and didn't get to build on-court chemistry.
Championship Recipe – Trust the process. FINISH PROCESSING. When The 76ers are rolling they're a sight to see. They can win, and if so they must do it their way. With Jimmy Butler taking and making big shots. With Joel owning the paint and talking trash. With Ben Simmons cross-court bounce passes. And the Wells Fargo Center going crazy. That's Philadelphia basketball. The question is, is it sustainable?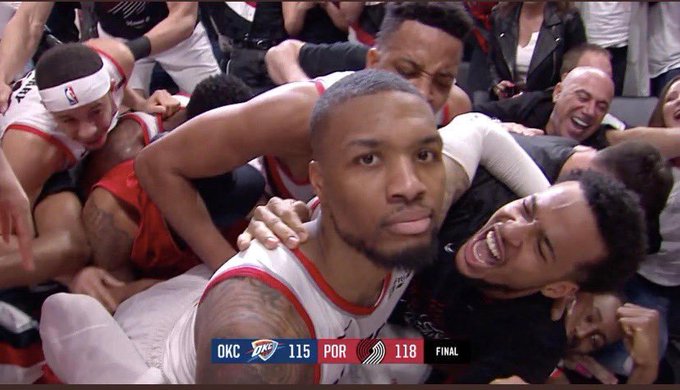 Portland TrailBlazers – Now, had Center Jusuf Nurkic's leg held up, the Blazer's would certainly be higher on this list. While his replacement Enes Kanter is more than serviceable, Portland's arsenal doesn't pack the same punch. The Kevin Love's and Klay Thompson's of the world have proven; a third star is necessary on any championship team. That being said, Dame and CJ are as formidable a duo you could ask for.
Weakness – Rim protection. The void left by Nurkic makes Portland's defense a lot less intimidating. Evidenced by the 36 points and 12 free throw attempts for Nikola Jokic in game 1. Portland's defense is going to have to create turnovers to stand a chance.
Championship Recipe – You know what time it is. Dame time. Following the dagger heard 'round the world, the world is rooting for Damian Lillard. The underrated and under-appreciated talk is no more. Much of the same goes for his running mate CJ McCollum. These two will need a run of epic proportions to pull off a championship, but counting them out would be a mistake.